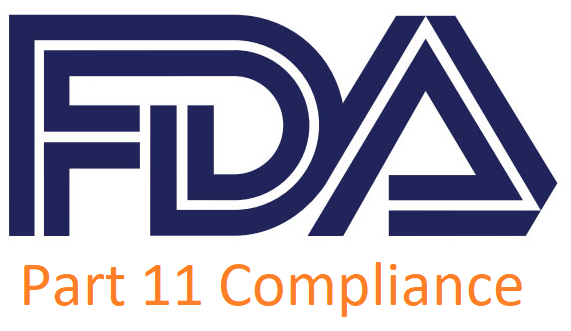 The FDA regulation in 21 CFR Part 11 came into effect on August 20, 1997. It regulates drug makers, medical device manufacturers, biotech companies, biologic developers  and other FDA-regulated industries on how companies should handle electronic records and electronic signatures.The regulation does not mandate the use of electronic records or signatures; rather, it simply outlines the requirements that must be met by medical device, drug, and biologic manufacturers that do choose to use them, within the context and enforcement parameters of the regulation.
The regulation primary focus on the following principles:
Availability:  That information can be viewed in either electronic or human-readable format and that records be available "in a timely fashion".  
Validation: That the information is complete – that each record can be tracked to its source and that related records are connected.
Audit trail : That the time of information entry and of any modification is noted.
Integrity:  That the information has not been altered in a manner that obscures the original information (much as is done with laboratory notebooks, where corrections are signed and where incorrect information is never deleted, merely amended).
User verification : That only authorized personnel can access the system, and the person creating, modifying, or reviewing any information is identified and personally attests to the validity of the process.
Documentation: That all experimental protocols are clearly documented and identified.
System Validation:  That the system has been validated to operate correctly.
Training log:  That all staff members are trained in the protocols and that training logs are available.
Benefits of Complying with FDA CFR Part 11 Compliance:
Looks impressive on your patent filing.  Compliance with 21 CFR Part 11 will produce the exact records that you will need for your patent filing and later will help with any patent dispute.
Complying with 21 CFR part 11 will strengthen your security procedure and increase your workflow efficiency
Incorporating Part 11 compliance requirements during your initial  system design will be much efficient and easier than to deal with part 11 remediation in the later phase of your product development.
As FDA expands the compliance to new areas of drug discovery or any new automation systems etc, comply with the regulations will become easier.
Experts at EHR 2.0 can help organisation of any size become compliant with 21 CFR Part 11. 
Interested in becoming FDA 21 CFR part 11 Compliant? Industry certified professionals at EHR 2.0 can help maintain your business posture.  Contact us at 866-276-8309 or info@ehr20.com with any questions or to request a quote.