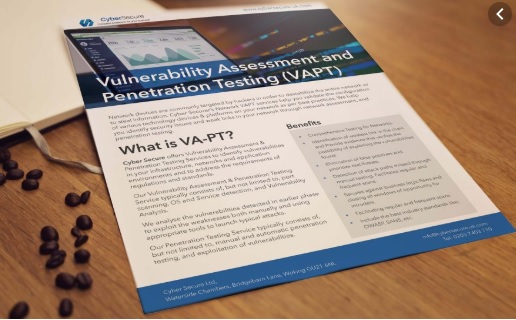 Importance of VAPT
There is an irrefutable truth that we must deal with: Our information security systems are vulnerable to intruder attacks. Hackers are everywhere, and they are constantly probing our networks for weaknesses. These attacks can originate from outside or inside our organization. There is no denying it. How prepared are we in understanding the damage the attacker can do and how do we prepare ourselves for the attack? The key to Internet security is to be proactive. The solution is to perform vulnerability assessments and penetration testing.
What kind of companies should approach for VAPT
While there cannot be an exception to the industry sectors needing cybersecurity, below examples can demonstrate the real need for vulnerability assessment services. It is highly advised to get a VAPT done from one of the top cybersecurity companies, or best network security company.
IT product companies to protect their code and data
IT services companies to prevent external attacks
Manufacturing companies to protect their designs, drawings and inventory data
Finance companies to protect their financial data, secure money transactions, and records
Pharma companies having their patents about drug formulas and intellectual properties
All firms and corporates who process or store their data as well as data belonging to their customers
The frequency for conducting VAPT
Whenever there is a change in firewall configuration, server patching, application changes, or addition/removal of IT infrastructure, a detailed vulnerability assessment is required to be performed. In many cases, if the change is internal only, a vulnerability assessment is good enough.
For example – a change in the entire firewall should call for a detailed VAPT to be performed internally and externally, whereas a set of servers patched can call for an internal-only vulnerability assessment. It is an art to decide when to perform vulnerability assessment only, and when to further go for penetration testing.
Furthermore, the company can decide to choose to have vulnerability assessment & penetration testing like below,
Quarterly
Half-yearly
Annually
Any other frequency as decided by the customer
Steps involved in Conducting VAPT
1.1.1 Phase 0 – Project initiation and understating the client requirements
a. Interaction with the client for any queries.
b. Project Plan/docket submission
1.1.2 Phase 1 – Vulnerability Assessment
a. Vulnerability Findings
b. Finding Missing Patches
c. Finding Open ports
d. Interaction with Administrator
1.1.3 Phase 2–Penetration Testing
a. Enumeration – Network Surveying, Port Scanning, System Fingerprinting
b. Vulnerability Discovery – Vulnerability Scanning
c. Gaining Access and Privilege Escalation – Attempting Brute Force, IP Attacks, gaining access to Target Hosts, Leaving Traces, Privilege Escalation
1.1.4 Phase 3–Web Application Penetration Testing
a. Vulnerability Findings.
b. Exploiting the found vulnerabilities
c. Mapping the found vulnerabilities with OWASP TOP 10
Summary: The objective of VAPT is to identify flaws that could damage or endanger applications in order to protect internal systems, sensitive customer data, and company reputation.  The lack of VAPT strategies has resulted in high-profile hacking cases including Target, Home Depot, etc. However, conducting frequent VAPT minimizes your exposure and eliminates all low hanging fruits for a hacker. Besides, compliance is a major driver, whether it is PCI, HIPAA, NY Cybersecurity, FISMA or any other. Databracket's VAPT service allows companies to meet their compliance and security requirements faster and more effectively.