A SOC 2 Report helps organizations to prove their commitment to customer data security and meet the eligibility criteria of a potential client' RFQ. More and more clients have been asking for proof of SOC 2 Compliance while evaluating if they want to work with a vendor. This is particularly relevant for technology service providers, SaaS providers, and any organization that stores and processes customer data.
Technically, SOC 2® is not a certification. It is a report on the organization's system and management's internal controls relating to the Trust Services Criteria. It includes the auditor's opinion of control efficacies on protecting data, also known as a 'SOC 2® Attestation'.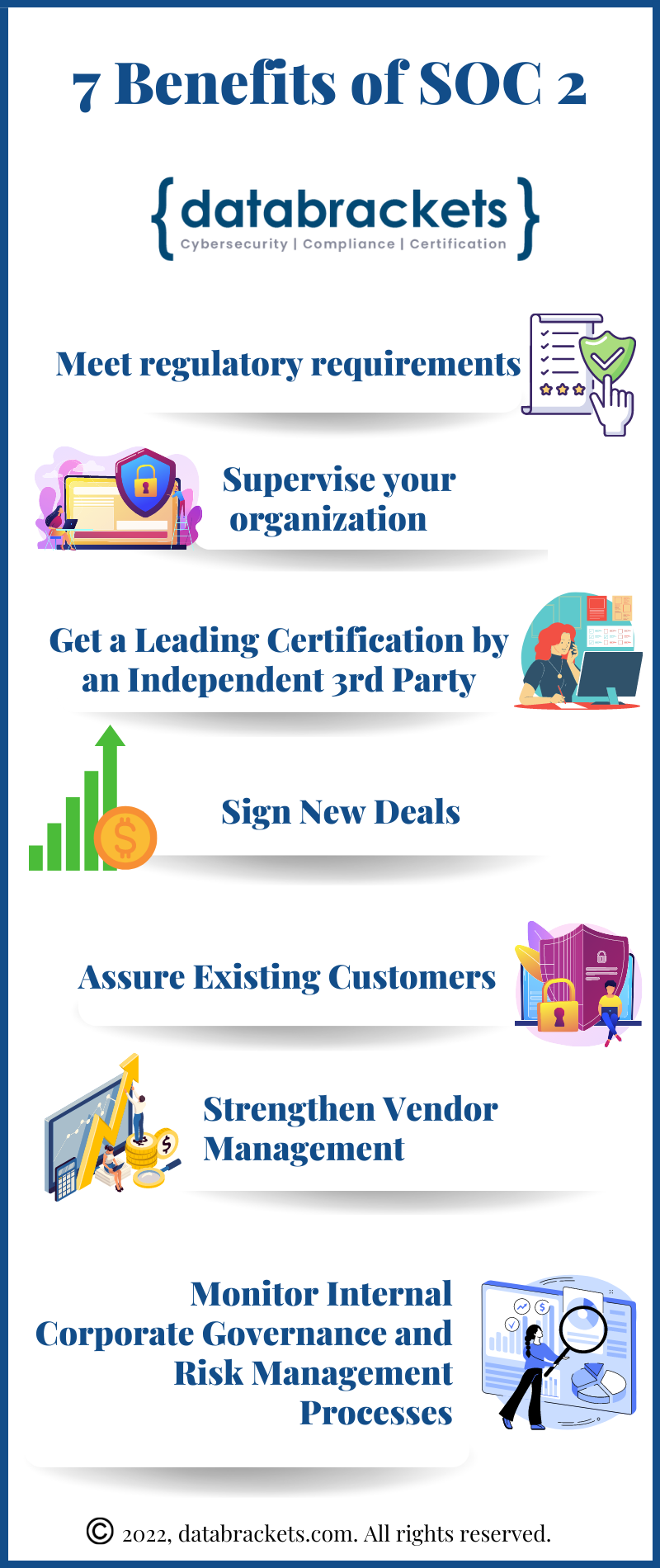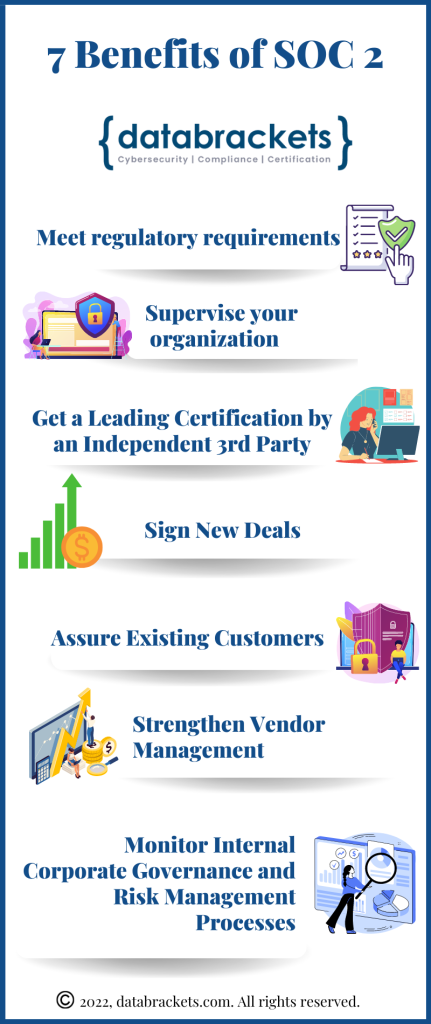 As security partners who have worked with countless SaaS providers to prep their organization for a SOC 2 Audit, we at databrackets have observed the following 7 key benefits of SOC 2:
1. Meet regulatory requirements: Once you are SOC 2 Compliant, you are aligned with AICPA's regulatory controls. A SOC 2 certificate is proof of that.
2. Supervise your organization: SOC 2 compliance mandates supervising all aspects of information security across all processes internally along with setting the benchmarks for vendors who manage customer data. In order to accomplish this, a robust process is designed, and its effectiveness is verified once an organization is SOC 2 Certified.
3. Get a leading security certification issued by an independent 3rd party: A SOC 2 Examination is conducted by an authorized and certified CPA. This gives credibility to the process and ensures it is conducted in an objective way. As a result, it is considered to be a highly valued certification.
4. Sign new deals: You can sign more deals and increase the number of clients once you prove your ability to effectively manage customer data with a SOC 2 Certificate.
5. Assure existing customers: You can prove to your existing customers that your company not only manages their customer data with the highest level of information security, but that this has also been verified by an authorized CPA firm after a rigorous SOC 2 audit.
6. Strengthen Vendor Management: You can set the benchmarks for vendors and ensure compliance with the highest level of information security.
7. Monitor internal corporate governance and risk management processes: You can design and monitor risk management processes and internal corporate governance in accordance with the SOC 2 framework.
Experts at databrackets have extensive experience in supporting organizations align their processes with AICPA's Trust Services Criteria and prepare for a SOC 2 Audit. If you would like to connect with an expert to better understand SOC 2 and plan your SOC 2 journey, do not hesitate to schedule a consultation.
Related Links: