Cybersecurity, Compliance and Audit Management Platform
In this time of constant and sustained change in Health Care, it was imperative that we find a resource that could be a true partner in our Security and Privacy initiatives.  databrackets not only met, but exceeded our expectations with their HIPAA/HITECH toolkit and consultation services.  databrackets offers the best of both worlds by integrating research and documentation into a solid operationalized practice."

–R. W. Stewart, CIO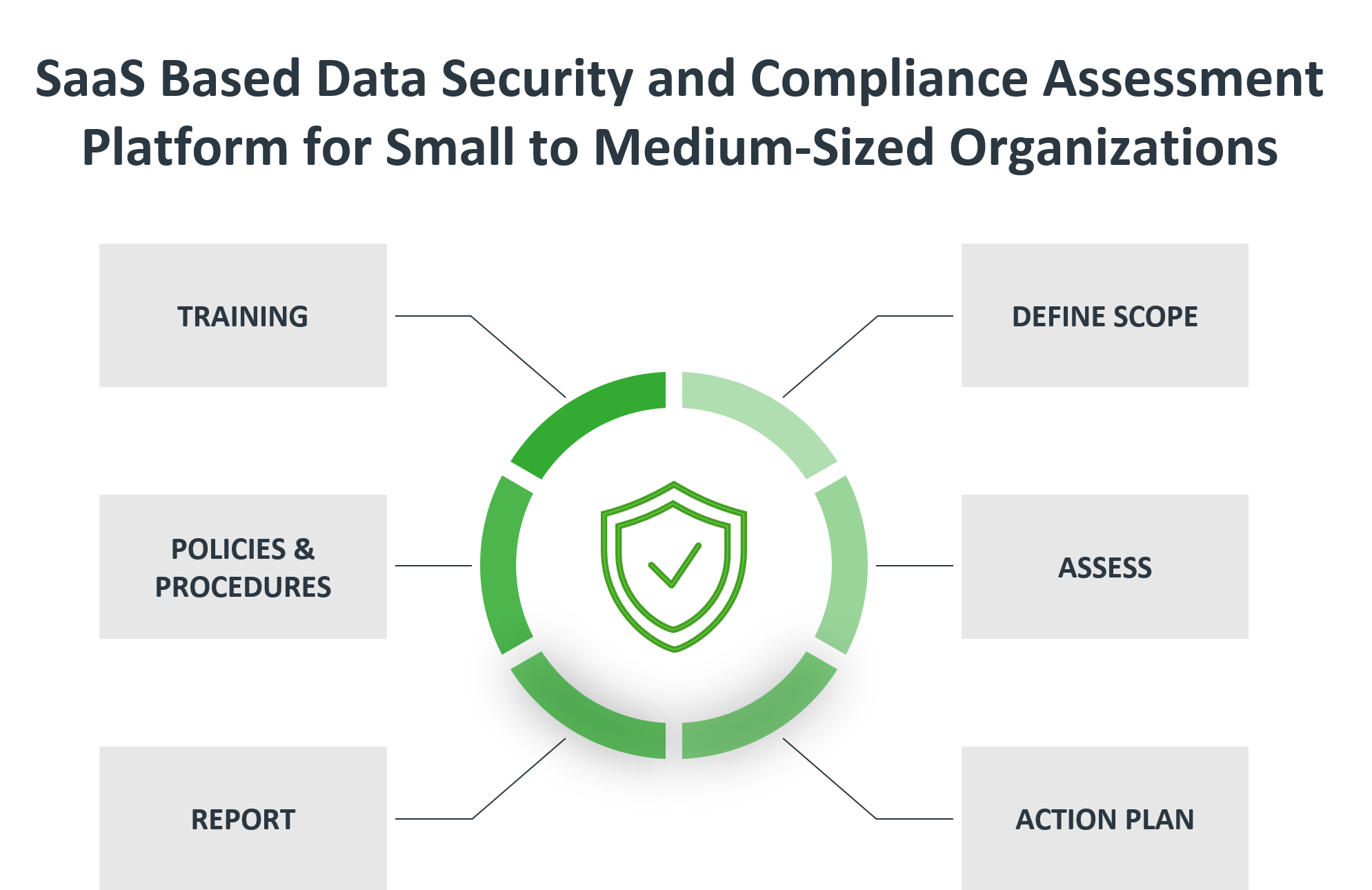 As a Security Officer, I found the HIPAA/HITECH Risk Assessment Toolkit from databrackets very useful to initiate the thinking and get the project moving, where it had been stalling for some time. I was impressed with how well it was organized with easy to follow instructions to complete the various steps. Having an organized launching point was critical to start and maintain a pace to see it through to completion.  I also found it thorough from the Security perspective." –K. Jalbert, Director of Information Technology
Continuous Compliance with Regulatory Requirements
– Assessment using a comprehensive platform-based approach for key regulatory requirements
– Protect yourself from agency audit and cyber insurance coverage
– Generate reports for executive management, technical teams, customers and partners
– Get notified on regulatory updates, action plans, etc.
– Minimize sensitive data breach
Invest in Data Security
– Easily identify your security exposure and risk areas
– Meet regulatory requirements and risk areas in one place
– Track exposures, prioritize risks, develop mitigation plan using the pre-populated solution
Organize, Analyze, and Report Your Status

– Know your security risks vs. measures after reviewing all the regulatory requirements/standards
– See the impact to different technology assets with one click
– Download your reports
– No need to prepare manually
– Customized policies, procedures and training
Meet New Regulatory Rule Requirements
– Protect yourself from compliance audits
– Easily update your previous year's report and save time
– Keep yourself up-to-date with compliance requirements

Enterprise Capabilities for Partners and Larger Organizations

– White Label, multi-customers, multi-users and partner dashboard
– Collaborate with multiple members, vendors, and stakeholders
– Provide portal access to end-customers
– Messaging, templates and document sharing with private or public groups
Share and Assess your Vendor's Security Posture
– Identify and manage your critical vendors
– Assign cybersecurity and compliance assessments to vendors and track progress
– Manage your vendor's remediation plans
– Provide vendor access to manage assessments

Share Artifacts with Your Customers
– – Share summary or detailed assessment report with your customers/stakeholders
– Control what you share
– Save time and money by providing access to all your prospective customers
– Make your latest reports available in real-time

And More Ways to Help Meet Your Goals
– The best customer support in the industry
– Use APIs to integrate with third-party platforms
– Secure access with multi-factor authorization
– Value for your money
What is SaaS-based Assessment Tool?
It is a web-based tool that allows you to perform cybersecurity, audit and compliance assessment of your sensitive data without having to install any software or host any system on-premise*.
Who is the platform for?
This platform can be used by all types of industries and partners wishing to assess their business based on updated cybersecurity, compliance and audit rules
What do I have to do?
It  is a 5-step process:
Step 1: Preparation introduces the user to the assessment process
Step 2: Identification the user goes through the standards (structured in modules/submodules) and answers YES or NO or NOT APPLICABLE to the questions. These are always affirmative statements for consistency and are arranged in a logical order.
Step 3: Evaluation for each problem spotted, the end-user evaluates the risk
Step 4: Action Plan is filled in with measures to tackle all stated risks
Step 5: Report the action plan is converted into a report to be downloaded and printed
How long will it take?
It's impossible to say how long an assessment will take in general as the tools differ according to your practice setup. Usually, it should not take more than 3 to 5 hours to complete your assessment.
Do I need to prepare?
You do not need any kind of specific preparation to start using the tool, however, you should take some time to think about who is going to carry out the risk assessment, how your IT and other people involved in sensitive data are going to be involved in the process, etc.