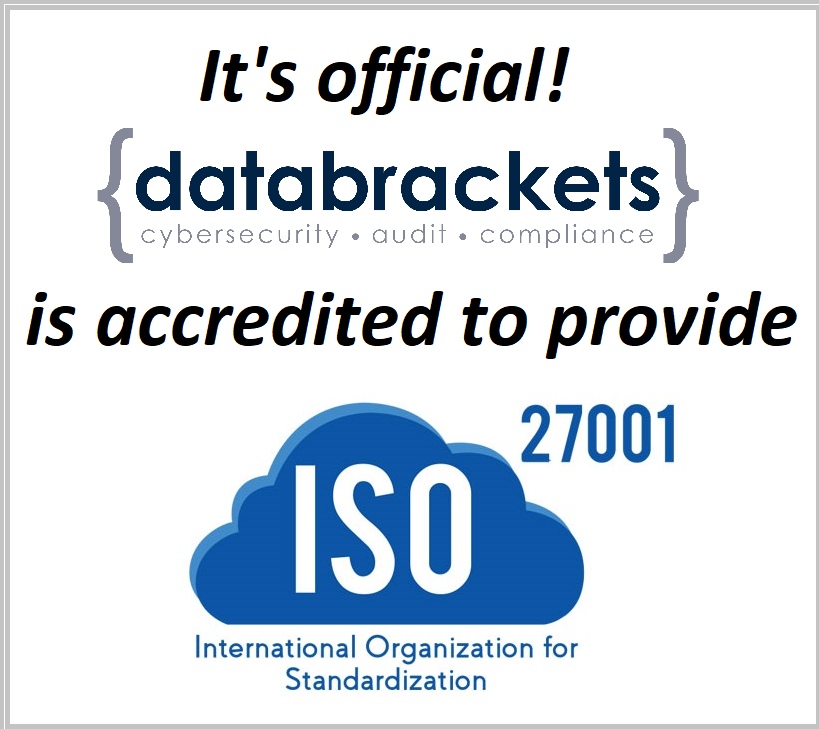 databrackets received accreditation by the International Accreditation Service (IAS) to provide ISO/IEC 27001 Certification for Information Security Management Systems (ISMS) and joins an exclusive group of certification bodies.

About International Accreditation Service (IAS):
IAS is a nonprofit, public-benefit corporation that has been providing accreditation services since 1975. IAS accredits a wide range of companies and organizations including governmental entities, commercial businesses, and professional associations. IAS accreditation programs are based on recognized national and international standards that ensure domestic and/or global acceptance of its accreditations. The International Accreditation Service (IAS) provides objective evidence that an organization operates at the highest level of ethical, legal and technical standards.
What is ISO/IEC 27001 Certification?
ISO/IEC 27001 is an international standard on how to manage information security. The standard was originally published jointly by the International Organization for Standardization (ISO) and the International Electrotechnical Commission(IEC) in 2005[1] and then revised in 2013.[2] It details requirements for establishing, implementing, maintaining and continually improving an information security management system (ISMS) – the aim of which is to help organizations make the information assets they hold more secure, providing the confidence and the trust the customers and vendors need.
databrackets is proud to announce the accrediation received by Internation Accrediation Service (IAS) to provide ISO/IEC 27001 Certification to our customers. "It was one of the toughest projects in our company's accomplishments as the certification process involved heavy lifting, and we couldn't take our eyes off the ball as there were too many moving parts that need to be recorded and confirmed for accreditation. As unprecedented as it was, the pandemic tilted the balance. Many of our customers shifted business processes from offline to building their digital space online, and virtual operations always raise data security concerns. We see ISO 27001 certification strategically positioning our customers for the next digital transformation where 'Information Security Management Systems should be air-tight'. The ISO 27001 will barricade the walls so that the Information system is safeguarded at all times against any breach and ensure customer's privileges and personal information will never be compromised." said Srini Kolathur, CEO of databrackets, while sharing his experience about the certification process.


About databrackets
databrackets is a leading compliance and audit company that assists organizations in developing and implementing practices to secure sensitive data and comply with regulatory requirements. By leveraging databracket's SaaS assessment platform, awareness training, policies and procedures, and consulting expertise, you can meet the growing demand for data security and evolving compliance requirements more efficiently.
databrackets certified privacy and security professionals could help your organization comply with a range of Certifications and Compliances that include HIPAA/HITECH, PCI Data Security, CCPA, OSHA, GDPR, Penetration Testing, FDA CFR Part 11, ISO 27000, Cloud Security Management, NIST Framework, Cybersecurity Framework, SOC Certification, Third-party Assessment, NYDPS Cybersecurity Series, ISO 17020, and ISO 27001.
Interested to learn more? Contact us at info@databrackets.com or (866) 276-8309
The following two tabs change content below.
Our mission is to assist organizations in developing and implementing practices to secure data and comply with regulations. With several years of experience in the IT and health care industries, databrackets is poised to meet the needs of your organization via: - Consulting Services - Online, Do-it-yourself Toolkits for Security Risk Assessment - Education (Training, Webinar, and Workshops) For details on how databrackets can provide customized assistance for your organization, please contact us at info@databrackets.com.
Latest posts by databrackets (see all)