Why Does Security Risk Analysis for Meaningful Use, MIPS/MACRA and HIPAA Matter?
Protecting patient health information is a base score measure for

MIPS/MACRA eligible clinicians to receive positive or downward payment adjustments in 2019. Any organization that is a Covered Entity or Business Associate under HIPAA regulations MUST also complete an annual security risk assessment, then maintain a supporting risk management plan for a potential HHS/OCR audit. In addition, NCQA PCMH program provides 2 credits (TC5) recognition for completing an annual security risk assessment. 
MIPS/MARA audits are actively being conducted by Figliozzi and Company on pre-payment and post-payment basis, and several firms have forfeited large sums of incentive payments by failing to produce proper supporting documentation. In addition, the quality payment program a.k.a MACRA/MIPS requires security risk analysis measure to be completed in 2019. Also, HIPAA OCR audits are specifically being focused on comprehensive security risk assessment of all ePHI produced, stored or transmitted. Theft and unauthorized transfer of medical records have paralyzed small physician offices' efficiency, and reported data breaches have resulted in severe financial loss; risk assessment is one of the most effective methods to avoid these incidents. In addition, risk analysis is the first step in HIPAA security rule compliance efforts. Lastly, NCQA Patient-Centered Medical Home(PCMH) provides 2 Credits (TC5) for the practices which use an EHR system (or modules) that has been certified and issued an ONC Certification ID, conducts a security risk analysis, and implements security updates as necessary correcting identified security deficiencies.
databrackets (formerly known as EHR 2.0)  certified privacy and security professionals can help your organization comply with the requirement in a most efficient and cost-effective way or leverage our DIY toolkit to complete the risk assessment and meet the MIPS/MACRA requirements in less than an hour.
Prioritized Security Risks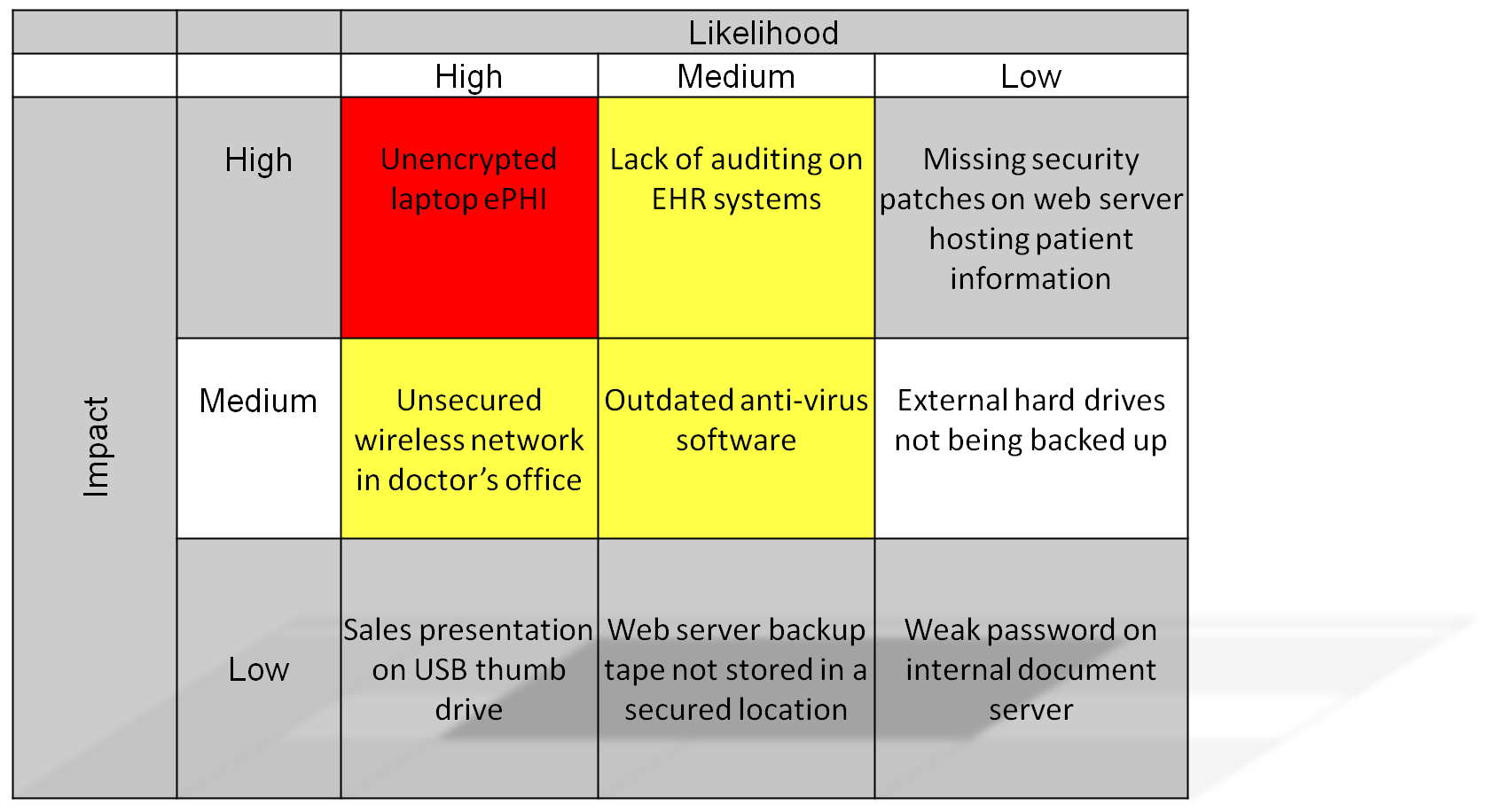 Defining the scope of the security risk analysis
Inventorying ePHI (electronic Protected Health Information) systems
Reviewing past security risk assessment report(s)
Assessing current and trending security measures
Determining the likelihood of threat occurrence
Identifying risks using automated and manual analysis
Prioritizing implementation/remediation plans
Documentation of findings
Security risk assessment report
Executive summary
Results summary
Remediation plans
Detail report based on individual assessment areas
HIPAA security awareness training
Customized policies and procedures
Optional continuous compliance plans
Interested in trying our DIY platform ?
Some of Our Happy Customers
Security Risk Analysis Showcase
Also, the visitors of our website have an option to use the SRA tool provided by ONC/NIST. Please read their disclaimer section thoroughly. In addition, the free tool doesn't include network assessment, training and policies, and procedures. Ensure you complete a comprehensive security risk analysis and audit-proof your report. Our toolkit has been designed to help busy medical professionals like you to complete the risk assessment in less than an hour.
Still have more questions?