Many organizations are turning to certification authorities and security standards/frameworks for demonstrating privacy and security best practice adherence of customer data, compliance with regulatory bodies, and building trust with partners/customers. There are several standards, frameworks, and guidance that helps organizations bring a structured approach to cybersecurity.
databrackets with the help of its partners and consultants has complied the important standards/frameworks for security in the industry based on practical aspects for considering or adopting those standards. We also pulled some data from Google Trends to understand more about customers' interest in the compliance/cybersecurity standards: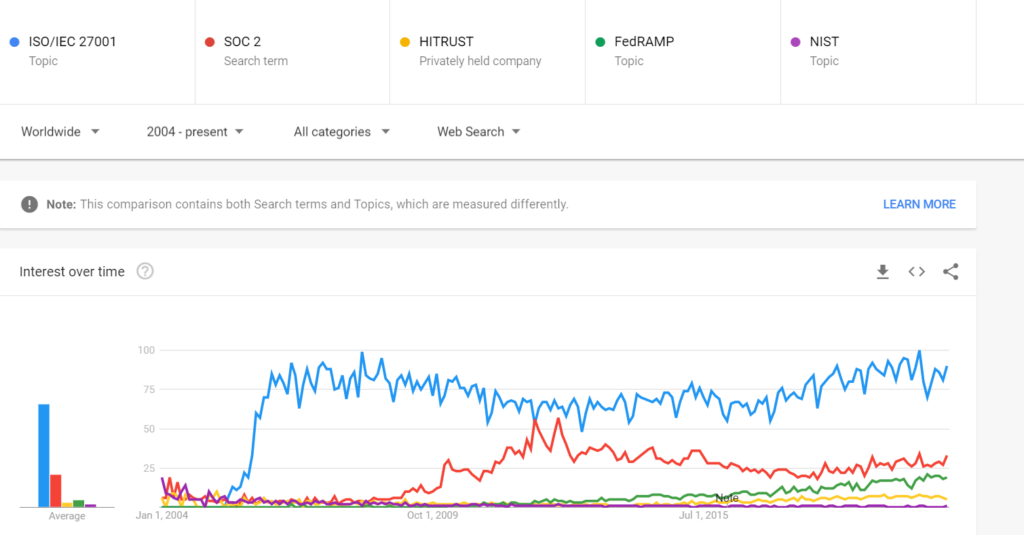 A quick summary of each of the standards/frameworks used in our comaprison:
NIST Security Guidelines: NIST security standards are based on best practices from several security documents, organizations, and publications, and are designed as a framework for federal agencies and programs requiring security measures. In addition, several non-federal agencies are adopting these guidelines to showcase the adoption of authoritative security best practices guidelines.
ISO 27001:ISO 27001, on the other hand, is less technical and more risk-based standards for organizations of all shapes and sizes. ISO/IEC 27001 is widely known, providing requirements for an information security management system (ISMS), though there are more than a dozen standards in the ISO/IEC 27000 family. Using them enables organizations of any kind to manage the security of assets such as financial information, intellectual property, employee details or information entrusted by third parties.
SOC 2 Type 1 or 2: SOC 2 reports covers controls of a Service Organization Relevancy to Security, Availability, Processing Integrity, Confidentiality or Privacy.
These reports are intended to meet the needs of a broad range of users that need detailed information and assurance about the controls at a service organization relevant to security, availability, and processing integrity of the systems the service organization uses to process users' data and the confidentiality and privacy of the information processed by these systems.
FedRamp: The Federal Risk and Authorization Management Program (FedRAMP) is a US government-wide program that provides a standardized approach to security assessment, authorization, and continuous monitoring for cloud products and services. FedRAMP enables agencies to rapidly adapt from old, insecure legacy IT to mission-enabling, secure, and cost effective cloud-based IT.
HITRUST: HITRUST stands for the Health Information Trust Alliance. HITRUST certification by the HITRUST Alliance enables vendors and covered entities to demonstrate compliance to HIPAA requirements based on a standardized framework.
Cloud Security Alliance: The Consensus Assessments Initiative Questionnaire (CAIQ) v3.1. offers an industry-accepted way to document what security controls exist in IaaS, PaaS, and SaaS services, providing security control transparency. It provides a set of Yes/No questions a cloud consumer and cloud auditor may wish to ask of a cloud provider to ascertain their compliance to the Cloud Controls Matrix (CCM).
Shared Assessments: Shared Assessments provides the best practices, solutions and tools for third party risk management with the mission of creating an environment of assurance for outsourcers and their vendors. 
NIST Stds, ISO 27001, SOC 2 and Other Framework Comparisons
| | | | | | |
| --- | --- | --- | --- | --- | --- |
| Key Features | NIST Standards | ISO 27001 | SOC 2 | Other Standards/Frameworks (including FedRamp, CSA, HITRUST, Shared Assessments, etc.) | Notes |
| Certification | Not Applicable | Yes | Yes | Yes | Need to engaging certifying bodies/approved vendors |
| Approach | Control-based | Risk-based | Controls-based | Maps to other standards | Technical and general controls |
| Principle | Control Families | Information Security Management Systems | Trust Services Criteria & Ethics | Depends | Platform specific controls are not covered by the standards/certification bodies |
| Certification Method | Self | Authorized Third-party | Authorized CPA Firms | Third-party vendors | Certification bodies require accreditation |
| Best Suited For | All | Service Org. | Service/Product Companies | Service/Product Companies | Increasingly customers/marketplace requires some sort of certification |
| Popular in … | US Federal/Commercial | International | US Companies | US | ISO 27001 standard seems to be more popular globally |
| Customer Acceptance | Not Widely Accepted | Preferred | Preferred | Depends | Refer to Google Trends graph: In order of acceptance ISO 27001, SOC 2 and other certifications |
| Duration | Point-in-time | Point-in-time | 6-month period(Type 2) | Point-in-time | Surveillance audit is in place for most of the certifications |
| Audit Frequency | Not Applicable | Every Year | Every Year to 18 months | Depends | Minimum of 12 to 18 month period |
| Cost | $$ | $$ | $$$ | $$$ | HITRUST certifications cost in the north of 50k+ |
The above table is the most simplified representation of many of the standards and it may not accurately portray the individual standards/framworks.
databrackets specializes in assisting organizations in developing and implementing practices to secure sensitive data and comply with regulatory requirements. By leveraging databracket's SaaS assessment platform, awareness training, policies, and procedures and consulting expertise, our customers and partners are meeting the growing demand for data security and evolving compliance requirements more efficiently.